Head. Heart. Hands.
We believe it takes all three for true success. That's why Cheryl Harris & Associates, Inc. challenges leaders to create systemic change authentically, purposefully and effectively through a reflective learning process.
What we offer:
We offer leadership coaching, diversity & inclusion consulting, team development consulting and workshops.
Who we are:
We are educators, lawyers, psychologists and theologians.  Our diverse and rich backgrounds allow us to weave effective leadership practices with a true understanding of the human condition.
The result: Organizations and individuals who implement and influence change, evolved leaders and passionate human beings.
Our Holistic Approach
Diagnosis
It's tough work to change. We use multiple methodologies to collaboratively develop a current snapshot of your organization.
Design
We recognize the importance of a measurable plan. That's why we map out a strategy and series of checkpoints to measure success and evaluate progress.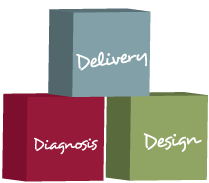 Delivery
With an understanding of the situation (diagnosis) and a plan for moving forward (design), our delivery produces results that create comprehensive and sustainable change.
Authentic. Purposeful. Effective.
Authentic:
Change starts with trust. Cheryl Harris & Associates, Inc. challenges and supports leaders to lead authentically.
Purposeful:
If you intentionally desire comprehensive and systemic change, then Cheryl Harris & Associates, Inc. can help. We use a reflective learning process to ensure our work is purposeful.
Effective:
Without identifying our intentions, how will we know if our work is effective? Our experience shows us that true change occurs when authentic and purposeful intentions are matched with an implementation plan that ensures checkpoints for measured success. We like to call this "starting where we want to end up."
Need more information?
We envision a changed world by cultivating cross cultural relationships, eliminating racism and fostering authenticity. Learn about the services we offer to make that vision a reality.
Let's take a look.